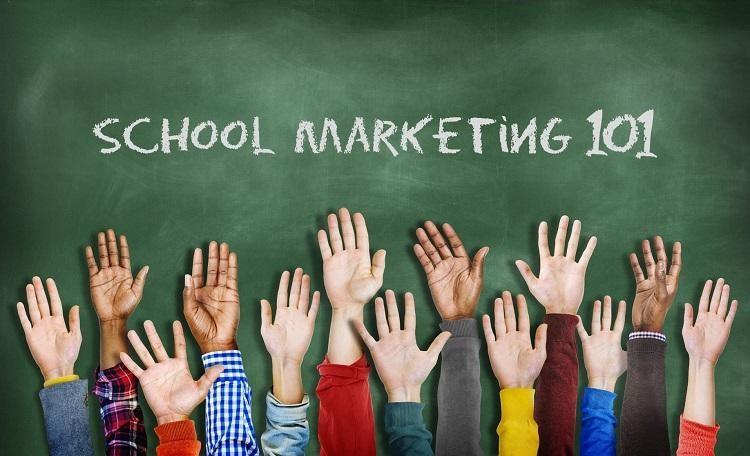 School Marketing: Enrollment Strategies for the Digital Age
How to Use this Article:
Designing a Digital Marketing Strategy for schools can be complex and intimidating. This article is not intended so much as a tutorial, but more of an overview of the same tactics that we use to assist our education clients with their digital enrollment strategies.
There is a lot of actionable information contained within this article. There are also a lot of links to additional information. Essentially, there is more information here than can be digested in one sitting.
Our recommendation is to read through the entire article once to get the "big picture" and then comeback frequently and focus in on each individual tactic one at a time.

---
Author's Note: We support education on many different levels, and offer a one-time free consultation to schools and educators to help with their school marketing strategies.
Just ask...
---
School Marketing Tips 101
Congratulations on sending another young mind out into the world to flourish and be all they are destined to be. You and your staff are passionate about sharing ideas, communicating concepts, and inspiring conversation. Preparing our youth for the rest of their lives is a passion…but education is also a business.
Marketing may not be your thing, but marketing is the lifeblood of any healthy school's enrollment strategy. Successful school marketing starts with a solid plan, and an understanding of what works and what doesn't. 
Research may not be your thing either, so we invite you to bookmark this article and consider all the different elements of a successful school marketing plan.
Content Overview:
Plan Your School Marketing Strategy FIRST
School Marketing Techniques that No Longer Work
School Marketing Practices that DO Work
Plan Your Marketing Strategy FIRST
Haphazard attempts or a "spray and pray" approach is rarely effective, and never optimal. Your school may have a reputation for academic excellence, selectivity in admissions, and the like. But in today's competitive education environment, most parents of school-aged children are making decisions differently than they did in the past.
According to HubSpot, there are three main phases to a person's search. First, in the awareness stage, a parent is aware of a need or a challenge and begins to research the issue.  During this stage, they begin to further clarify their needs as they learn more and essentially make a list of key things they are looking for in a school.  Next, they move into the consideration stage in which they are looking for specific options that best meet their needs.  It's at this stage that they may contact you for information or to schedule a tour.  Then, in the decision stage, the parent is choosing between their top choices.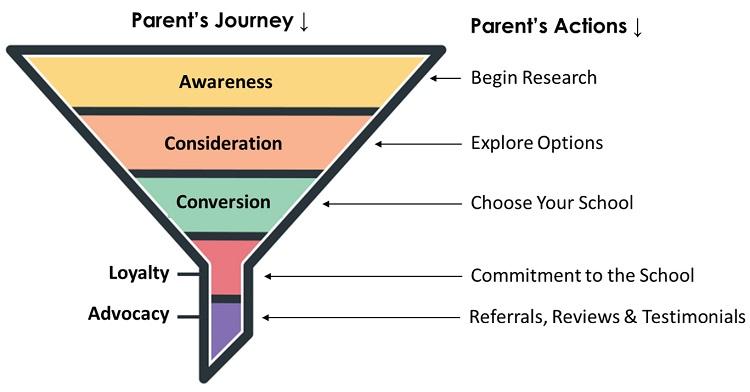 "If you don't have the time or money to do it right, where are you going to find the time and money to do it over?"

Schools can either adapt accordingly, or do things the way they've always been done. The saying goes "If you keep doing what you've been doing, you'll keep getting what you've been getting". The reality is, if you keep doing what you've been doing…you will probably get even less results as generational shifts in parent and student behavior, and new technologies come into play.
Marketing comes with a price tag. You either have to do it yourself, expend the resources of your staff, or outsource to a professional organization. Facebook, Instagram and Google aren't free (but they can be very effective if leveraged properly).
Digital marketing for schools is no longer a menu of items that you can just pick and choose from based on the "shiny object" of the day. Enrollment marketing techniques are now so interrelated and co-dependent on each other that you need to take a step back and invest your time and marketing dollars on a comprehensive marketing plan before you invest any time or money on the actual marketing.
---
Disclaimer: We offer a comprehensive Digital Marketing Blueprint for Schools as a service, but with enough time and research, you may be able to formulate a workable strategy yourself.
---
School Marketing Techniques that No Longer Work
People used to spend a lot of time on a few media, like phonebooks, magazines, television, radio, newspapers and billboards. Now people spend a little time on a lot of media, like different websites, mobile aps, search engines, blogs and social media.
Parents of school aged children consume their information differently than their parents. No one of this generation sits through radio commercials. They are streaming music from their phones or listening to satellite radio. Direct mail is expensive and is just as likely to wind up in the home of childless household as your target market.
Traditional marketing, or "disruptive advertising" is no longer as effective as it once was. You may indeed be enjoying some degree of success using traditional techniques. However, you are restricted by the natural limitations of "Spray and Pray" marketing which is targeted geographically, not demographically.


School Marketing Techniques that DO Work
School marketing today requires a 360° integrated strategy. A strategy that pulls together elements of Site, Search & Social. A great website that accurately reflects the school in the finest light, a well thought out search strategy to be in front of parents when they are searching for the educational services that you provide, and a strategic social media plan to draw parents to your message.
Following is the same core strategy that we use for all our education clients. Virtual schools may use a more aggressive version of this same strategy because they are unencumbered by the 4 walls of a classroom, and typically have a larger marketing area. However, all of our schools use various combinations of these essential techniques:
School Marketing Techniques that Work: (Table of Contents)
Great Performance Based Website
Pay-Per-Click Search Marketing
Retargeting & Display Advertising
Facebook & Instagram Advertising
Landing Page Design
Ongoing Search Engine Optimization
Data Aggregation & Directory Management
Social Profile Branding
Social Media Publishing & Content Curation
Parent Reviews
Google Analytics & Webmaster Tools
Marketing Automation & Lead Nurturing
How We Can Help
1: Great Performance Based Website
Your website is the hub of all your online marketing activity. Sooner or later every parent that you successfully target will wind up on your website. Sending good traffic (motivated parents) to a bad or mediocre website is not only a waste of time and money, but it can do more harm than good. If they don't like what they see, they won't be coming back.
Just having a website is not a strategy. Charter schools, Private Schools, Vocational schools… doesn't matter, simply having a website isn't the key to great results, it's the ability turn your website into an inbound marketing machine that moves the needle. Your website has a hefty goal and it needs to wear many hats.
A website doesn't just need to exist; it needs to perform. It needs to attract visitors, educate them and convince them to pick up the phone, or fill out an enrollment form. Here are just a few of the things you need to pay attention to:
Visual Appearance: The school website may be a parent's very first exposure to your schools' brand, so it must make a great first impression. Homemade looking websites just won't justify the tuition.
Simple Navigation and Easy-to-Find Answers: Complicated, hard to navigate websites frustrate parents who are just looking to have their questions about your school answered. Don't make them think too hard.
Information Rich Content: The content on your website must perform double-duty. On one hand it needs to answer a parent's questions (before they ask them). On the other hand, it should showcase the school's culture. Frequently updated, engaging and informative content keeps the website alive and is engaging for teachers, students and parents.
Great mobile experience: More content is being consumed on mobile devices than desktops now. A great mobile experience no only includes a mobile-friendly layout that can expand and contract based on the screen size of the device it is being viewed on (Responsive Design) but also optimized for speed. Parents and Google don't like slow loading websites.
Lead Capture Capabilities: To truly integrate your website into a comprehensive marketing strategy, you need to have a system to capture and nurture leads, and automate the marketing process. In the hands of a professional, platforms like HubSpot, SharpSpring and Infusionsoft can have a profound effect on your enrollment efforts.
A website's effectiveness should not be gauged solely on how "pretty" it is.  A fair amount of psychology goes into how a parent will behave once they land on your school's website or landing page. For more detail, see our guide "25 Website 'Must Haves' for every School."
2: Pay-Per-Click Search Marketing (PPC)
PPC is a paid advertising model, and the single fastest way to drive targeted traffic to specific pages on your website. As the name implies, you pay only when someone clicks on your search result and goes to your website. Essentially, it's a way of buying visits to your site, rather than attempting to "earn" those visits organically.


One of the advantages of PPC is that you have a high degree of control over what the person will see based on the keyword they typed.  You write the ads, control the bid management, and define the geographic target area. You can also collect a lot of data about what is working and what isn't. This helps you make better decisions on how to maximize your advertising dollars.
PPC is extremely effective if managed properly. However, it is not always obvious how to set it up correctly. For example, if your geographic targeting is not properly set, you might inadvertently advertise to parents who are not in your area, thereby draining your budget and diluting your enrollment results.
3: Retargeting & Display Advertising
A paid advertising model. When a parent visits your website, regardless of the means (Search Engine Optimization, Pay-Per-Click marketing, email, or directly through a browser) we "tag" them. As they go about their business visiting other websites over the next hours, days or weeks, we show them your custom banner ad. Your brand literally follows them around for less than a penny per impression. The same technology can be employed to parents who have searched on your keywords, but didn't necessarily go to your website.
This strategy works because your most valuable prospects are the ones who have already sought you out and visited the school's website. They just weren't ready to take the next step yet. Retargeting will keep your school top of mind throughout the parent's evaluation process.
4: Facebook & Instagram Advertising
Facebook Advertising is a paid advertising model that targets a very specific audience that best fits the demographics, geographic location, and interests of those you want to attract. For instance, you can target people based on age, gender, income, education, behaviors, and hobbies.
The difference between Facebook and Google advertising is that people who are searching for something specific are at a different stage of their Journey than are people who are playing around on Facebook or Instagram. Social media advertising is a way to get in front of the right audience, even if they aren't looking for you at that moment.
Facebook (who owns Instagram) knows everything about everyone. Why? Because we tell them when we sign up for an account…and every time we hit the "Like" button or the "Angry" button, or visit or "like" specific pages. This makes targeting very precise.
A common mistake is to just seek out "Likes" or just send targeted parents to the school website without a follow-up strategy. This marketing technique works best when you have a built-in follow-up strategy.
5: Landing Page Design
A landing page differs from a regular page on your website in that it removes distractions, keeps the visitor focused on a specific topic in which they've already expressed interest, and motivates them to take a specific action (i.e., downloading a free resource with perceived value for parents searching for a school).
Landing pages are designed with a single goal in mind. Limited distractions and calls-to-actions (CTA) typically translate into a higher conversion rate than regular pages on a site.
A good landing page is part of a sequence of events where traffic comes from a specific source (i.e., Facebook Ads, Pay Per Click Ads, etc.). Think of it as a progressive chain of events culminating with a predetermined call-to-action.
Using dedicated Landing pages also make it easier to track the effectiveness of your digital marketing strategies and campaigns. Then you know where to best invest your dollars for a greater return on investment (ROI).
See Related Resource: Landing Page Optimization; It's About Psychology, Not Technology
6: Ongoing Search Engine Optimization
SEO is the ongoing process of optimizing a website to show up in the "natural" (non-paid) search results of Google, Yahoo and Bing. This typically includes the "Maps" sections of the search results. Effective SEO is based on advanced keyword research, content, social sharing and technical fundamentals.
When a parent searches for "private schools near me," "charter schools near me," and other related search queries, don't expect to appear on the first page of organic search results overnight. SEO is part of a long-term strategy because it's not reliant on a paid advertising model. Even when done properly by professionals, results can take months. But it's worth it.
Organically appearing in the top results attributes more credibility to your site because it is an "earned" ranking. When combined with a paid advertising program, you can dominate multiple areas of the search results.
SEO is highly complex and specialized. Effective SEO is based on advanced keyword research, content, social sharing and technical fundamentals. There is a lot of outdated and theoretical misinformation out there. Although this is typically best left to professionals, there are many things you or your staff can do to push this in the right direction.
See Related Resource: Google's 200 ranking factors
If you have the staff, expertise, and time to dedicate to optimizing your site and consistently writing new content for topics that parents are searching for, then we would highly encourage you to do so. But if you want to consider outsourcing it to marketing experts, then download the Schoolmasters Guide to Selecting the Best Marketing Team to aid you in that process. 
7: Data Aggregation & Directory Management
Search engines rely heavily on top tier, and local directories to verify your information and assign authority to a website. These listings must be completely accurate, verified and without duplicates or conflicts. Some of these directories carry more weight than others, and influence second tier directories.
This approach has influence on how search engines like Google, Yahoo and Bing perceive the value, relevance and authority of your website. It is particularly effective in boosting the rankings of local businesses (a school is almost always a local business).
Aside from the boost in search rankings, you may also enjoy additional traffic from consumers who find you on these directories.
8: Social Profile Branding
All your social profiles (Facebook, Instagram, Twitter, etc.) should display consistent, professional branding. Each social media platform has its own format, dimensions and layout, but there should be a consistent look and feel throughout.
When parents are scrolling through their social media feed, they should recognize not only your professional logo, but also the overall style and color themes you use. It's that consistency that helps develop your brand recognition.
Parents may evaluate the overall appearance of your social profiles just as they would when visiting your website, so you want to make a great impression. It's also an opportunity to enhance your school's image as a professional institution of learning.
9: Social Media Publishing & Content Curation
Social Media Publishing: Publishing original content and school updates that engage parents and students is great for retention. Parents who know what's going on at the school, feel closer to the school.
There is also a relationship between Social and Search. Although search engines don't give you credit for "Likes and Shares," you get credit for traffic to your website, time on site, and overall activity. When you drive parents from the comfort of their social media outlet to read a blog post or school news on your site, it not only helps your search rankings over time, but it can also engage your parents, making the relationship "sticky".
Content Curation: Sharing third-party content of interest across multiple social media channels will further build your school's brand and credibility, and attract parents back to your school's website. Others may write it, but you get credit for having the wisdom to share it.
Important: Creating great content without a strategy is a waste of time and resources. However, when combined with a well thought out lead nurturing strategy, in which all roads lead back to Rome (your school website), it can be part of an effective marketing plan for your school.
10: Parent Reviews
Reviews are naturally skewed negative. When people get what they expected, they rarely go out of their way to tell everyone about it. But when people are disappointed, whether unfounded or not, that's when they vent…and they do it online.
You can't remove someone else's review. What you can do is dilute negative reviews with an overwhelming amount of positive reviews.
If you think reviews don't carry much weight, think again.
According to a 2017 survey conducted by BrightLocal, "85% of consumers trust online reviews as much as personal recommendations." (source: https://www.brightlocal.com/learn/local-consumer-review-survey/ ). A recent article published by Inc.com states, "Research shows that 91 percent of people regularly or occasionally read online reviews, and 84 percent trust online reviews as much as a personal recommendation. And they make that decision quickly: 68 percent form an opinion after reading between one and six online reviews." (https://www.inc.com/craig-bloem/84-percent-of-people-trust-online-reviews-as-much-.html)
You don't get a second chance to make a first impression.
Acquiring reviews from parents who are happy with your school will boost the confidence of those who are looking for the best school for their son or daughter. Be proactive. Create a list of parents who you think will give your school a stellar review, and simply ask them in a personal way. Make it easy for them by providing links to your Google reviews page, Yelp, Great Schools, etc.
11: Google Analytics & Webmaster Tools Set-up
Google Analytics is a free web analytics platform allows you to analyze in-depth detail about the visitors on your school's website. Where traffic is coming from, what pages get the most attention, how long people stay on specific page, and a host of other valuable data points that help you make incremental improvements to your school marketing strategy.
Although it only takes rudimentary web skills to install the code and start tracking right away, it might be worth a small investment to have a professional do the initial set-up. Ideally, they would set up "filters" to screen out robotic traffic and visitors from other countries that have other motives for visiting your site. You can also set-up "Goals" to help measure the effectiveness of your digital marketing efforts.
Google Webmaster Tools is also a free suit of tools that can help you determine the health of your website at a glance. You will have access to search statistics on Google, latest data on incoming and internal links. Notifications if your site has any crawl errors of malware. You will also be able to see how effective the keywords you are targeting are.
Essentially, the difference between Google Analytics and Google Webmaster Tools is that Webmaster Tools reports on how search engines interact with your site, while Google Analytics reports on how website users interact with your site.
12: Marketing Automation & Lead Nurturing
Also known as "Inbound Marketing", a name coined by HubSpot, this is the strategy that makes all the difference for schools and many other businesses that offer a "considered purchase" (a significant investment, such as tuition).
A typical mistake many schools make with their marketing strategy is to just focus on driving traffic to their website without a plan to automatically follow-up and score the quality of the lead for their enrollment department. Lead Nurturing and Marketing Automation is what elevates traffic generation strategies into an enrollment machine.
Lead nurturing is the process of strategically building confidence, credibility, and trust with a parent over time. This is done by offering something of value (a "Lead Magnet") such as a guide or eBook in exchange for their contact information. Then following up strategically with an automated email sequence (a "workflow").
Popular automation tools include HubSpot, SharpSpring and Infusionsoft.
How We Can Assist
Strategy: Whether you are planning on using your existing staff, hiring someone specifically for enrollment marketing, or outsourcing it to a professional agency experienced with school marketing techniques, you MUST start with an integrated strategy before you invest any of your school's marketing budget.
We always begin with our Digital Marketing Blueprint for Schools. This is our Risk-Free service designed specifically for schools. It includes a satisfaction guarantee, and a roll-over option if you decide to have us do the work for you.
Training & Consulting: We can consult with your team on strategies, procedures and trends, and where it makes sense, lend a hand on getting them up and running. 
Technical Support: Technical issues associated with website maintenance and marketing platforms can be tricky. If the proper precautions aren't taken, some mistakes can be irreversible.
Shared Management Services: This is our "Hybrid" service where we collectively determine what your school can handle, and what you need us to handle. Typically, we do the heavy lifting with technical issues, strategic issues, creative ideas, and managing the paid advertising.
Full Management Services: Our PartnerPlus program is where we essentially become your Digital Marketing department. We take all responsibility for your entire digital presence for a single, predictable monthly fee. No annoying incremental invoices that you didn't count on.
We do offer hourly services, but I think you will find our retainer-based programs are more economical and offer additional perks. Our monthly programs are customized based on the needs of each school.
We support schools and have set aside the time to do one complimentary WebScan website audit for up to 4 schools each month. Contact us here to see if we have an opening for you this month.