Why Does Google cost more than Facebook?
Which is your best investment?
Google and Facebook are both great marketing solutions, but they aren't interchangeable. They each have their place in your marketing tool-kit, but depending on the stage of your buyer's journey, one of them might be more appropriate than the other.
---
Authors Note: If you would like to learn more about Strategies for Student Enrollment in the Digital Age you are welcome to download our School Masters guide to enrolling more students. It's easy to read, and it's free for schools and educators.
---
This is the story of Mary and Kim. They are both Moms of 9th grade students. Naturally they are both concerned with their kids' education, but they just happen to be in different stages of their "buyer's journey". Mary senses she needs to do something, but Kim knows it. So how do you get in front of each of them at the appropriate time?
Mary's Story:
Mary's son, Billy is having social issues at school. He's being bullied on a regular basis and has become withdrawn.
In the evening, Mary was relaxing from a stressful day. Billy has been having trouble at school with bullies. This has been going on for some time now, and she really doesn't know what to do about it.
She's sitting back on the couch, half watching TV, half scrolling through her Facebook news feed. She really wasn't thinking about Billy's school issues at the moment, she was just trying to unwind.
In between her friends status updates, videos of talking dogs, and the usual political tirades, she sees a "sponsored post" (Facebook ad) that says "Is Your Child Bullied at School?"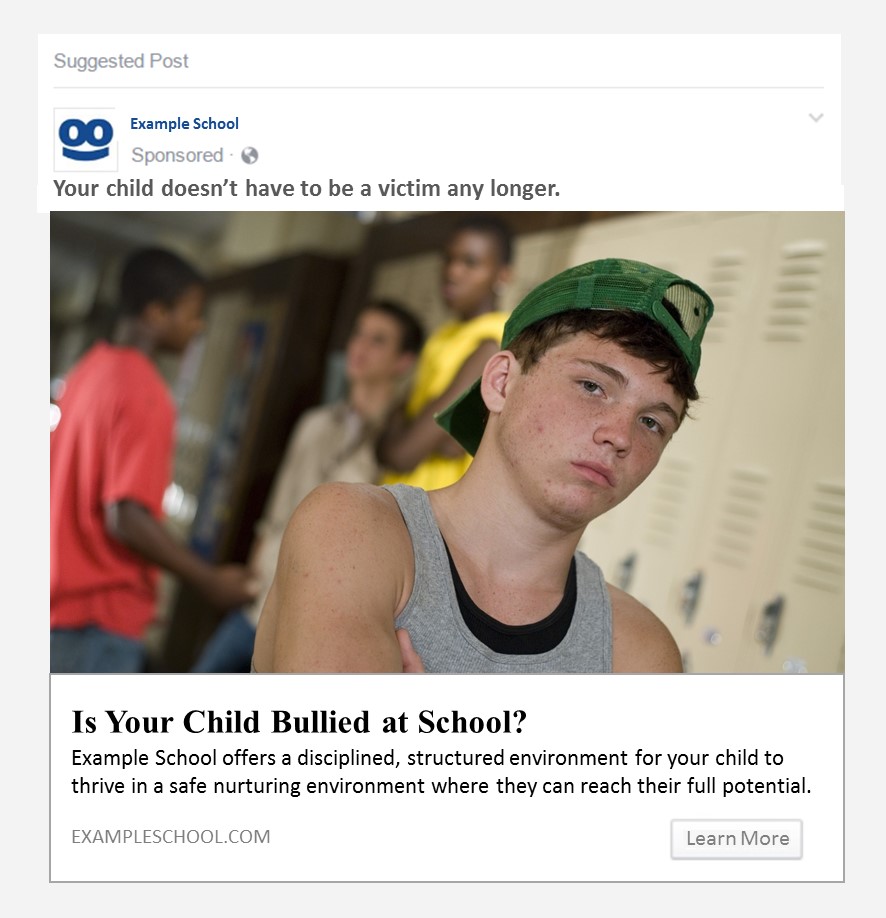 Mary had been thinking about alternative education for Billy to get him out of that environment, she just didn't know where to begin, and hasn't done anything about it yet. She wasn't actually searching for a solution, but this looks interesting.
She clicks on the "Learn More" button and arrives on a landing page offering some information about the advantages of charter schools in general, and about this school in particular. Mary has just become aware that charter schools offer a solution to Billy's issues, and this particular school looks like it might be a good choice. She is now entering the "evaluation" stage, and is just now becoming a serious prospect for enrollment.
Kim's Story:
On the other hand, Kim had a pretty good idea what she was looking for. Her daughter Stacy was truly a gifted child, and was looking for a more stimulating environment with some structure. Since Kim already had an idea what she was looking for, she initiated the search on Google. In this case, Kim was looking for a charter school that met her needs, the school wasn't looking for her.
Since Kim is motivated, and initiating the sales process herself, she is by definition pre-qualified. She is starting farther down the sales funnel at the evaluation stage.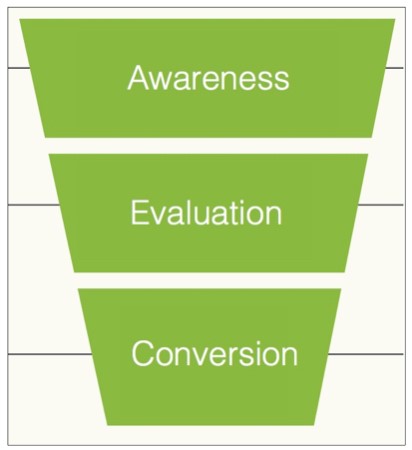 Awareness – The parent must first become aware that there is a problem and that YOUR school is the solution for it.
Evaluation – Parents who move through the Awareness Stage must now evaluate the various choices available to them, including competing schools.
Conversion – Those that move through the Evaluation Stage are now at the moment of truth — enrollment.
Since Mary wasn't aware enough to search for a Charter School as a solution, we had to seek her (and others like her) out. Facebook advertising would be a better way to get in front of her because she is in the early stages of her journey. She is in the "Awareness" stage. She knows that her son is having issues at school, but isn't aware that there is a solution. She doesn't know where to begin, so she isn't actively searching on Google for a solution. It's our job to make her aware of solutions to a problem she has yet to address.
On the other hand, Kim had a good sense of what she was looking for, so barring a word of mouth referral, she will be on Google searching. Since she is farther down the sales funnel (Evaluation Stage), she is actually closer to enrolling than Mary is.
Advantages of Facebook Advertising:
Facebook knows everything about everyone. They know your gender, your age, your location, your income level, and even what you like and don't like (you do hit that "like" button occasionally don't you?).
Facebook is a great medium to target lots and lots of people who aren't necessarily looking for a school at the moment, but for whom a charter or private school would be a great fit for their needs. When the charter schools' marketing company put that Facebook ad through, they were looking for someone just like Mary…even if Mary wasn't looking for a charter school at that particular moment.
It's a Top of the Funnel approach (awareness), so demographic targeting is key. Because it's higher up the sales funnel (less qualified), it's also cost less than advertising on Google (PPC). Assuming it's done correctly.
Advantages of Google Advertising:
Google is about Search, not awareness. When a parent searches for a school, it's because they are already aware that is the solution to their problem. They are already in the "evaluation" stage, and thus more qualified. Because they are more qualified, they are more valuable, and thus highly in demand. When something is highly in demand, you are going to pay more for it.
Is one better than the other?
You are targeting parents at different stages of their buyer's journey. So no, neither one is better. In fact, these two strategies should be used as part of an integrated marketing strategy to cover parents at all points in their journey to enrollment.
Want to learn more about School Marketing?
We put together a comprehensive school marketing resource page that your enrollment team can use as a guideline when establishing their school marketing strategy.
We support schools and have set aside the time to do one complimentary WebScan website audit for up to 4 schools each month. Contact us here to see if we have an opening for you this month.