We do the online marketing for a lot of businesses so we get an unusual view of what's actually going on. Since we monitor the traffic sources for each or our clients, I can tell you that you'd be surprised at how many "branded keywords" (variations of the company name) are actually being searched.

You might also be surprised at how many searches there are on company names preceded or followed by words like "Reviews" (as in "kreative webworks reviews" or "reviews kreative webworks").
Testimonials carry quite a bit of weight in the customer buying process, but everyone knows that you can hand-pick which testimonials you want to showcase, hide negative comments and even write the testimonials yourself.
Video testimonials are pretty powerful, and they don't necessarily require high production costs. Even an amateur video testimonial shot from an iPhone has a certain degree of credibility because it obviously features real people.
Testimonials are great, but Reviews are Better!
For someone to leave a review on any credible platform, like Yelp or Citysearch or GooglePlus, they would first need to have a unique login profile, so reviews are harder (but not impossible) to fake. Therefor consumers trust them more than testimonials.
Research varies between the years of 2013 and 2015, but the consensus is that between 79% - 90% of consumers say that online reviews impact their buying decisions.
Shameless Example of Our Reviews ↓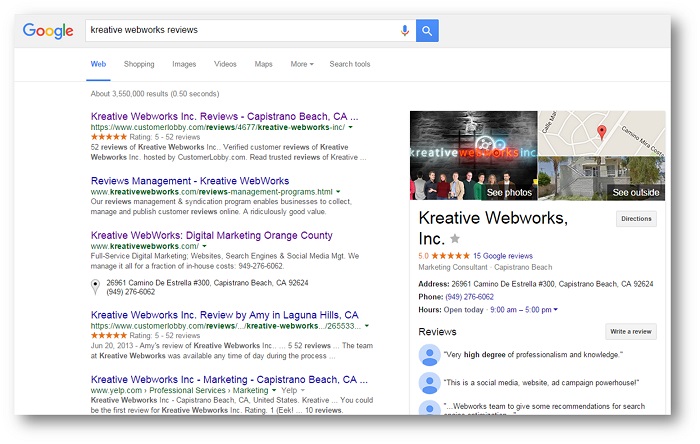 Step 1: Be Proactive
If you're sitting around waiting for those 5-star reviews to roll in, you're in for a rude awakening. Reviews are naturally skewed negative because most people don't think to leave a review when they are satisfied. If your new vacuum cleaner worked would you immediately go to Yelp and tell everyone you got what you paid for? Probably not. But if you had an issue and their customer service was rude you probably would. Consumers who are dissatisfied however have a tendency to vent…and vent in public.
So to reshuffle the deck, you should be proactive and actually ask your satisfied customers to leave a favorable…but truthful review. There are actual systematic approaches to this. Contact me to learn how we do it.
Step 2: Be Proud
If you've earned some stellar reviews, don't be afraid to provide direct links to your Yelp, Citisearch or Google+ page right on your website. There are even reviews aggregators that will act as a repository for your reviews and syndicate them to other directories across the Internet.
We typically put a "Badge" (a graphic) on our clients websites that link directly to their reviews page. This is a pet project of mine, so feel free to lean on me if you want more information.