PPC, Should I bid on My Own Company Name?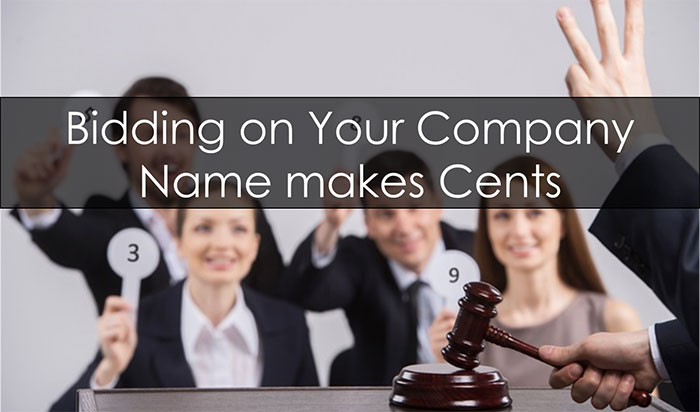 Should I Run PPC for My Own Company Name?
When we run paid advertising campaigns for our clients we make sure we bid on their own company name by default. In fact some of the biggest brands bid on their own name even though they are already well established household brands. Ford, Amazon, Round Table Pizza all are willing to pay for the privilege of showing up for their own company name.
We recently did a competitive analysis for one of our newest clients, a skateboard manufacturer/distributer. What we found was their biggest competitor in the industry not only bid on their own name, but they bid on their own name in conjunction with their own products and industry terms as well. They're already the biggest name in the industry and easily dominate the organic search result for their own name. Why are they also willing to pay for clicks from consumers who already know who they are? Well it just makes sense as you are about to see.
Brand the Search Results Page:
PPC or "sponsored" listings show up on the very top of the search results page. They show up even higher than the number 1 organic search result, or the local (maps) results. In the general scheme of things, organic search results have a higher overall click-through-rate than paid listings, but not necessarily for the top paid positions. In combination with other types of search returns, you have that much more of an opportunity to dominate or "brand" the search results page with your company name.
Undermine Your Competitors:
After all, if they are bidding on your company name, they are undermining you. Don't think that your competitors can't or aren't already bidding on your business name. They could potentially ride your coat tails by hijacking potential customers that started their search looking for you. Bidding on your own name will put you right back in front of the very customers who were searching for you in the first place. When people are searching for your business specifically, you want to be everywhere they are looking. Organic results, local results, and paid results.
Control & Flexibility:
You can somewhat control what the consumer reads about you in the organic search results with a "Meta Description". A well written description can certainly help your click-through-rate, but Google doesn't necessarily accept what you write every time. They often cobble together their own version scraped from the content on your web page. Bidding on your own business name with paid search gives you the guarantee of delivering the message that you want, and the ability to change it when necessarily. For instance, you can change the results instantly to focus on limited time specials or seasonal products as it relates to your company name.
Reputation Management:
If someone is searching for you by name, you can pretty much guarantee that your company website won't be only thing that shows up in the search results. Reviews (positive and negative) will show up along with other companies (possibly competitors). The organic search results will be chockfull of things that you can't control. Bidding on your own business name gives you control of one more thing that the consumer is likely to see. You have control, and you can have it on the very top of the search results page where it very likely to be seen.
Your Most Affordable Click:
PPC is essentially priced as a "real-time market bid". That means that it is priced based on demand. It's most likely that bidding on your own name will be the cheapest click you can get. For example, if our company "Kreative Webworks" bid on our own name, you can be pretty confident that it will be less expensive than use bidding on the search term "Digital Marketing". There are a lot of digital marketing agencies out there, but not too many bidding on our name. Since you only pay when someone clicks on your ad, it's an inexpensive way to reengage with existing customers who are pre-qualified by virtue of the fact that they are looking specifically for you. If your business name turned out to be your most popular keyword, would that be a bad thing?
Building Brand Equity:
It's all part of building your brand online. Showing up on the organic results, local results, PPC results and even display advertising and directories lets consumers know that your business is well established. A robust web presence lends itself to brand credibility.
The mere fact that people are searching specifically for your business probably signifies an intent to buy. Wouldn't you spend a few extra cents to make it easy on them to find you? What do you think… looking forward to hearing from you!