Local Pack & Ad Placement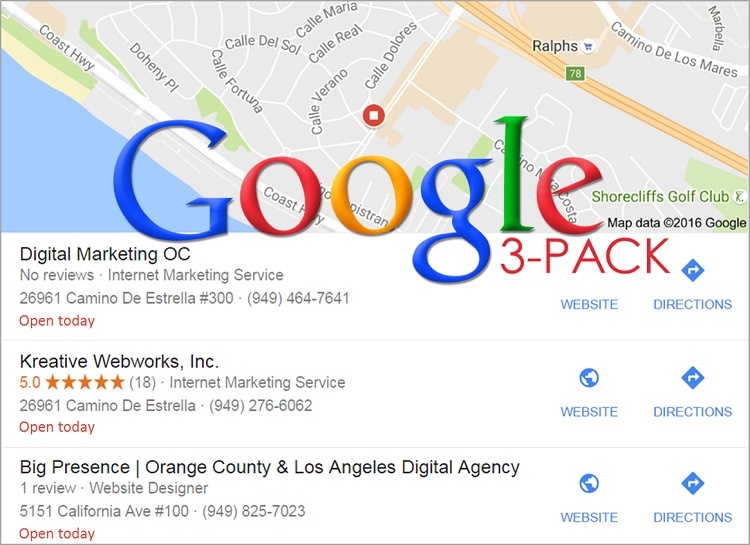 Google Maps: 3 Search Results instead of 7!
2016 has seen Google make some pretty drastic changes by rearranging the search results pages that we've been accustom to for so long. Now there are 4 ads at the top, and three at the bottom of search results.
This has reduced the space available for organic search results on the first page for the keywords that companies are vying for. Face it, Google makes money on paid advertising, not organic search results.
The Growing Importance of Ads & Local Search
As expected, the SMBs and large corporations have responded to this emphasis on local search by optimizing their websites to take advantage of geo-targeting. This has, understandably, driven Google to start integrating advertisements into the local search platform in new ways. An understanding of the "Local Pack" is necessary to appreciate the importance of the new ad placement paradigm that's in the works.

You've probably noticed by now how local search results show up differently on mobile. This unique set-up for search terms that drive a lot of local traffic is known as Google's Local Pack – or sometimes, Map Pack or Google Maps.
The Pack is skewed towards displaying businesses in the area that have well-optimized profiles across multiple online platforms, including ratings and reviews from Yelp, Yahoo Business, Facebook and other social media networks. Previously, local search has returned quite a few results beneath the ads; this has changed.
Local Pack & Ad Placement Details
For example, recently, at the SMX Advanced Workshop 2016 in Seattle, Google's Product Lead Ali Turhan confirmed that ads are soon to be integrated into the Local Pack, which means that it is likely that there will be less space for organic search results. Although information from the workshop was a bit tentative, the tech giant's Global Product Lead for Local Ads confirmed that AdWords is rolling out features for local by producing a screenshot of what to expect in the future.

Specifically, the Smartphone screenshot showed an arrangement with a paid ad at the top of search results, with two organic results (as in these obtained their listing purely through SEO and perhaps social promotion). Recall that previously, there could be as many as seven organic results; this has been reduced drastically in what is now being called the Local 3-Pack.

This focuses search results, and places tremendous value on occupying the ad space in the Local Pack. As Turhan explained to the Seattle audience, however, nothing is set in stone. Google continues to test the ad placement within the Local Pack, and companies that are mobile-optimized will want to start aiming for the top spots – they'll be more lucrative for your business than ever before if the changes hold.