Writing Web Copy – My "Easy" List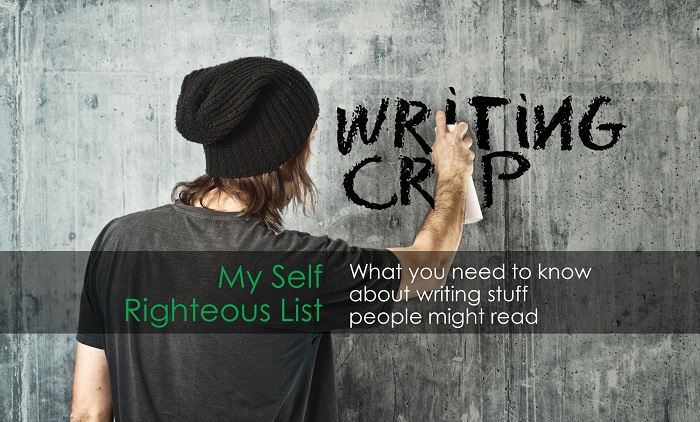 Writing Stuff People might actually Read
Your Headlines should be "Scanable" but your body copy should be "Snackable". Unless the purpose of your website is to sell a book, don't write a book. Remaining true to that philosophy, here is one of the shortest posts I've ever written. And no, it's not because I'm going on vacation next week and just want to crank this out… that's just a coincidence.
My self-righteous list of what you need to know about writing for the web
Use half the copy that you would use in printed material
Landing page headlines should match the headlines that got the visitor to click through in the first place
Don't waste valuable real estate with a welcome message
"You" and "your" trumps "we" and "our"
People only read the first few words of bullets points, and paragraphs
People read the beginning and end of lists, not the middle. If you're reading this, one of us is wrong.
Keep your first few paragraphs short and inviting
Alternate long and short paragraphs
Paragraphs shouldn't be longer than four or five lines
Numerals have more impact than written numbers.
The precise amount of text? Nothing more than needed, nothing less than needed
BONUS TIP: Don't let your pharmacist or lawyer write your copy.
---
NOTE: You're welcome to download your own copy of "25 Website "Must Haves" for Driving Traffic, Leads & Sales here.
---
Make your site a no cliché zone.
These are jargon terms and phrases that have been over-used and abused rendering them meaningless. These words are supposed to add more emphasis to a particular subject but instead they make your eyes roll.
Avoid these words:
Next Generation
Flexible
Robust
Scalable
Easy to use
Cutting edge
Ground breaking
Best of breed
Mission critical
So you want to write good headlines too?
A few years ago Four African teens invented a power generator that runs on urine. That prompted one of my more creative writers to come up with this headline for a blog we were writing for one of our clients:
"Urine Good Hands with this Emergency Power Generator"
Admittedly it wasn't as much of a blog as it was just reporting on a news story from the Huffington Post, but that headline trumped a lot of better written content in terms of visits to the website.
Since this post is rapidly becoming not my shortest blog ever, let's pick this up with… How to Give Good Headline