Top of the Funnel Marketing Example: Glass & Mirror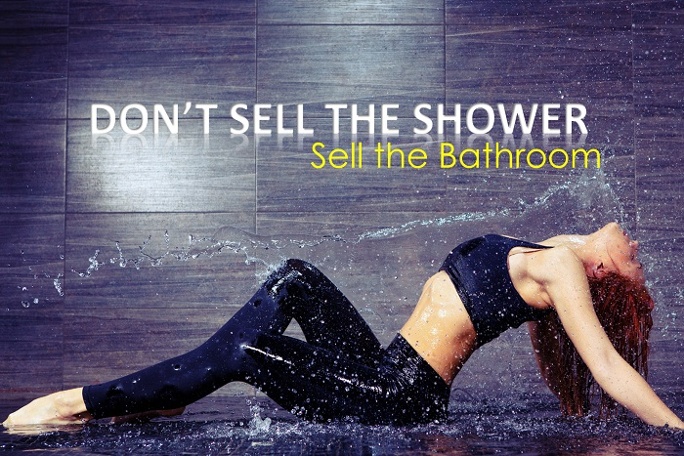 Don't Sell the Shower, Sell the Bathroom
Don't make the mistake of thinking that everyone who needs your product or service is looking for it. In fact, they might not even be aware they need your product until…they actually need your product.
For instance…
So let's say that you're in the "Glass & Mirror" business and your best margins are in selling shower door enclosures; frameless shower doors, pivot shower doors, bi-fold shower doors… you sell it all.
Your customers who are ready to buy are pretty predictable. They will head straight to Google and search for what they want. They'll do their research and call around or head to your showroom. Of course you have to be on the top of Google when they are searching, but the concept is pretty straight forward.
Here's the rub; very few of those consumers who are looking for shower enclosures started their buyer's journey looking replace their showers. They were looking to remodel their bathrooms. So why not start there?
Most companies are convinced that they're in the business of selling products. When in fact they are in the business of selling solutions. Yes, you absolutely have to target those consumers who are ready to buy now, but the most successful companies are the ones that target their customers at the early stages and nurture them through the buying process by solving their problems.
A Practical Example
This Inbound Marketing strategy applies to most product and service related businesses, but let's stick with showers for now:
You want to sell shower enclosures, so you create your "Buyer Personas". These are fictitious representations of your ideal customers. In doing so, you determine that your ideal customer is in the consideration phase of remodeling their bathroom, and will eventually be thinking about the shower.
Knowing that shower doors are only one consideration, you create your "branded" content about the entire remodeling process….not just your shower doors. This might be an eBook (with lots of pictures) or a simple checklist they can use to guide them through the process.
You make this content available for free via social media posts and social media advertising.
The homeowner goes to your landing page and fills out your short contact form to be able to download your content.
After filling out your form, they are in your database, so a few days later, your marketing automation process automatically sends them out a new tip.
A few days after that your automation platform sends them another pre-written tip. And after that, a value-add offer. Each email is designed to increase in value, culminating in an offer that requires them to engage with you.
By being there for them at the top of the funnel with valuable content, you build trust, stay top-of mind, appear to be less "salesy" and bake in a relationship with them though marketing automation. Who knows, you might even sell a few beveled mirrors and glass shelves in the process.
No, it isn't just about shower enclosures, it works with almost all product and service related businesses.
For example, if you sell POS (Point Of Sale systems) you don't just market to people looking for POS systems, you also market to retailers who need to streamline their business. You create content around all the things they can do to improve their business and relieve their pain. POS would just be one of the main solutions.
In each example, you engage with them at the top of the funnel when their interests are broad, and you sell to them at the bottom of the funnel when they are ready to buy. Simple right?
Admittedly this is a fairly sophisticated process, but if done correctly with a lot of preparation this process can add zeros to your bottom line. If you decide to have a professional agency handle it for you, download our How to Hire and Agency that Doesn't Stink eBook first. Lot of tips and questions to ask before you hire anyone.