How Pay-Per-Click Ad Groups Work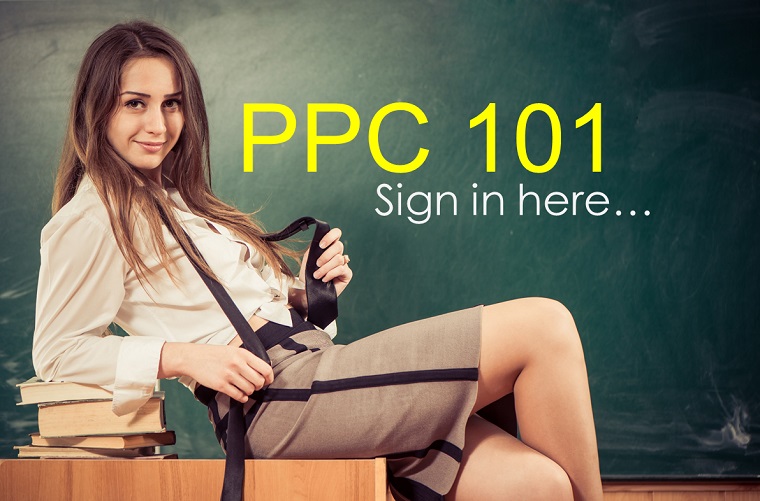 PPC 101, Sign In here…
Pay-Per-Click is the single fastest way to send traffic directly to your website. Period. It's also the fastest way to blow your budget if you don't know what you're doing. Google makes it sound easy, and to some extent it is. The difference is in the fine-tuning, and employing best practices. Here is one of the best practices.
It's all about user intent and continuity:
The consumer has a need. Let's say they are doing a bathroom remodel and wants to replace the shower enclosure.
They sit down in front of their device and search on any number of phrases related to shower doors. They are presented with a variety of search results (ads) that all mention shower doors.
They click on the ad that they find most interesting and wind up on a page that exclusively addresses their needs for shower doors. From keyword, to landing page…it's all about shower doors. It's all about continuity.
How Ad Groups Work
An "Ad Group", as it relates to Pay-Per-Click advertising is essentially a bucket of conceptually related keywords that are grouped together in "buckets" of similar keyword phrases.
When a consumer searches on any of the keywords in that group, they will see an ad (a search result) that you wrote specifically to match those keywords.
Ideally, when the consumer clicks on any of those ads that you wrote, they will go to a specific landing page that addresses what they were originally searching for in the first place (not necessarily the Home Page).
Got it? No?
Let's say that you own a Glass & Mirror shop in Dallas. You sell Shower door enclosures, wall mirrors and glass table tops among other things:
Step #1: You start by creating a bucket of conceptually related keywords. In reality, you would use many keyword combinations for each group. Google will also "broad match" them for you by default, and will come up with additional similar keywords for each of your buckets. Here is an example of a few keywords that might be grouped together in 3 separate ad groups:
Shower doors keyword group:
shower doors glass
shower door hardware
glass shower door hardware Dallas
glass shower door repair
frameless shower door enclosures
glass shower Dallas
glass shower door installation
etc.
Glass Table Tops keyword group:
glass table top Dallas
glass for table
glass table top replacement
glass tops for furniture
table glass
table glass tops Dallas
etc.
Glass Mirrors keyword group:
mirror glass Dallas
custom mirrors Dallas
mirror glass Plano
wall mirrors
Decorative Mirrors
unusual mirrors
oversized mirrors
etc.
Searching on any of the keywords in the "Shower Door" group would display one of the ads for shower doors. Searching on any of the keywords in the "Mirror" group would display one of the ads written specifically for mirrors.
In this example, searching on any of the keywords in the "Glass Table Tops" group will display an ad like you see in Step #2 below:
Step #2: Create multiple ads for each group. Here is one example:

This is just one ad for glass table tops, but we would generally create at least 3 ads or more for each group. (Separate groups of ads for Shower doors and mirrors, etc.). These ads can rotate, and over time you can see which ad is more effective than the others and replace the underperforming ads.
Note that as I'm writing this article, Google is now expanding how many characters (letters) you can use in a PPC ad. The ads are already starting to look different. This is an advantage for a savvy marketing company.
Step #3: Create unique Landing Pages for each ad-group:
One of the great things about paid advertising is that you don't have to send everyone to your Home page. You can create unique pages for each of your products and services. You can send everyone who started their search looking for shower door enclosures directly to a page dedicated to shower doors, you can send everyone looking for mirrors to a mirror page, etc.
The entire flow looks something like this: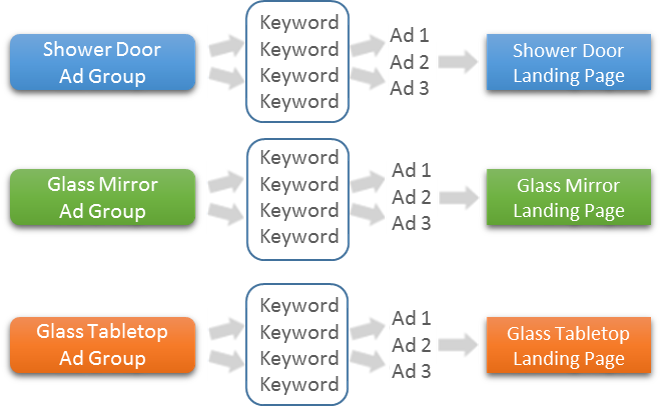 Pay-Per-Click is like cheating
PPC is a short-cut to the top of the search results on Google, Yahoo and Bing. Do it right and your business will flourish. But there is a price to pay for every click, and there is more to learn than the simple concept of ad groups that I outlined here. You can certainly try it yourself (cautiously at first) but typically a professional or an agency can more than pay for their own fees by doing everything right…from keyword research to professional ad copy to dedicated landing pages, you have to be firing on all cylinders.
If you have about 3-minutes to spare, this quick little video on PPC Marketing is a nice overview on how the process works.