How Much Does a Website Cost?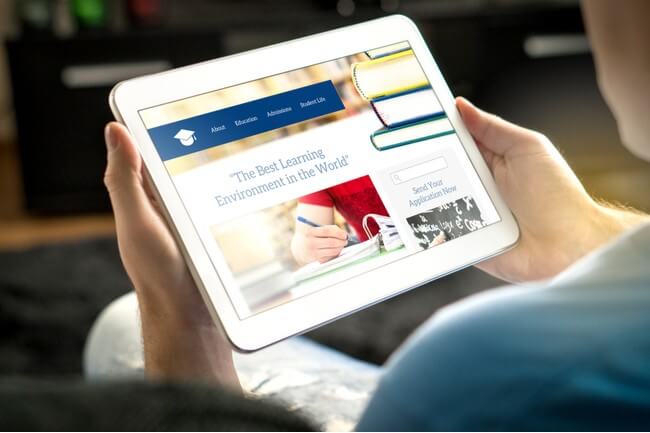 The Search for the Elusive Website Pricing Model
How much does a website cost? Good question. How much does a car cost? How much does food cost? Lobster tails are food, but then again, so are Ramen Noodles. Truth be told, I have a good reason for not having a good answer. Read on.
For the most part, websites come in two flavors: ones that someone builds for you, and ones you build yourself.
Do-It-Yourself (DIY) Websites:
Sounds good because it sounds inexpensive. That could work for your school if you know about design, copywriting, search engine optimization, and have a modicum of technical ability. You will also need time to learn the platform, and probably time to do it over when it doesn't look as good as it did in your head or if it didn't get the desired lead generating results. Some of the more popular DIY platforms are:
Squarespace
Weebly
Wix
Godaddy
In the hands of a professional, you can leverage the platform "themes" (template designs) to get a reasonably nice looking website. However because these are all part of a common platform, they are not particularly flexible, and typically don't provide the type of server access needed to professionally optimize them for search engines.
These DIY systems are reasonably priced, ranging from $4.50 - $49.00 per month, depending on the particular platform and the bells and whistles you opt for. These can be a good option if all you need is a place to post your basic information. Just don't count on them being particularly effective if you are looking to do some serious marketing and lead generation, which most schools need.
How do Professional Website Design Agencies Charge?
Whereas DIY website builders give you a set of tools, they have limits and don't factor in your labor. That includes copywriting, creative decisions, and strategy. It's fairly easy for them to assign a value and slap on a price because what they offer has been standardized. All the variables are your responsibility.
When an individual designer or company builds you a website, they have to define and factor in the entire scope of the project BEFORE they can quote you. They also have to factor in that they are not the final decision maker…you are, and they are subject to being second guessed and having to alter their work multiple times based on your feedback. That's normal, but has to be factored in. In extreme cases where one of our clients is not quite sure what they want, we call that "design by trial and error."

Project Scope Method: The most obvious way to price out a project is the same method that professionals in many other industries do. That is, estimating the number of labor hours and multiplying it times a fixed rate base on total overhead. 30 hours x $100/hr. = $3,000. Duh.
Project Packaging Method: Another popular method is "packaged pricing." For example, $2,500 for package "A" and $4,500 for package "B", etc. This makes it easy on the developer or agency to offer their pricing to you, but they still have to make a profit, so the scope will have to be very restrictive. Make sure you know what you need, and understand what you will be getting. ASK QUESTIONS! Also note that these packages have been pre-defined, so you might not get anything unique.
Program Packaging Method: This is the concept that we use at our agency. We consider a website to be just one component of an overall digital marketing strategy. With our PartnerPlus programs and our Digital Inbound Marketing programs, we don't charge extra for the website. It's just part of the process. If a school is paying us $2,000/month for SEO, Social Media Management, Content Marketing, Paid Advertising, etc., we just build the entire program (including the website) from the ground floor up.
What are the factors that go into website pricing?

Business planning and expertise: If you're writing all the copy, dictating layout, and making all the strategic design decisions, you should be paying less. Your web developer is simply taking your order and applying their technical knowledge. If on the other hand, the developer is offering up suggestions and making decisions based on current design and marketing standards, expect to pay more. If the developer has a good track record of results, pay a little extra and let them do the thinking for you.
Familiarity of an Industry, or type of industry: A designer may factor in their familiarity within a certain industry, such as schools, and be in a position to leverage that expertise on your behalf. That familiarity may shorten their learning curve, and their quote. It may also result in a better final product because they made their mistakes on someone else's dime.
Original design verses a template: Many platforms such as WordPress have what they call "themes." These are essentially pre-designed templates. They can save you a few bucks, but you are somewhat boxed into the design. Although some of these themes can look pretty good, they have a tendency to dictate the content, instead of the message dictating the design. We prefer to spend the time…and yes, a few extra dollars to design something specific for our clients.
Professionalism of design: Website design trends evolve just like fashion. Current design trends are focused on looking good and functioning well on both mobile and desktop devices. They may feature subtle, interactive animation, and parallax scrolling (where the background image remains static as the text scrolls on top of it). Expect to pay a little more for sophisticated design. Is it worth it? I think so, but you have to decide how important the role of your website is to your company image.
Search Engine Friendliness: A Search Engine Optimization "Program" is a separate, typically on-going professional service. However there are many things a knowledgeable developer can do to make your website SEO friendly during the development stage.
Outsourcing off shore: There are competent coders and designers all over the planet. Where they often fall short is with critical business thinking and western design trends. They will be cheaper, but count on having to manage every little thing they do. Often the entire project gets lost in translation.
Overall Scope of Project: The days of charging by the page are long gone, but a developer still has to consider the overall scope of the project. Who is going to do the copywriting? Are there any unique functions that need to be developed or integrated? Will it be mobile friendly? Will it be set-up for basic SEO?
So how much does a website cost?
After some exhaustive research, (a little Googling over my morning coffee) I found that it's pretty easy to find all sorts of "packages" from every web developer on the planet, I also determined there are no reliable, or even consistent statistics to compare apples to apples.
I can however tell you that we have created basic websites as low as $2k and as high as $115k. Huge spread? Yep, but it was the difference between Ramen noodles and broiled lobster tails.
What I can suggest to you, is to NOT base your decision solely on price. All websites are not created equal. Neither are web developers or digital marketing agencies. I suggest that you start your process by working with a reputable agency, be honest about your budget, and see what they can put together specifically for your needs.
Certainly you have to consider your budget, but you also have to consider your ROI. If you think working with a professional is expensive, try working with an amateur.
How's your web traffic?
If you don't know, check out our Google Analytics offer to see what's going on with your website.