Full Service Digital Marketing Agencies v. Specialists. Which is right for you?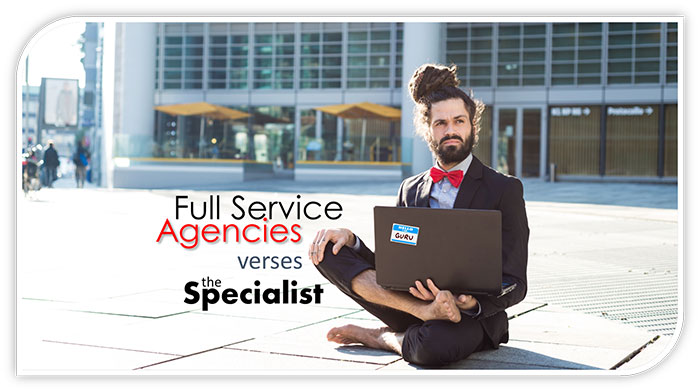 It's by no means a necessity to work with a full-service operation, but the advantages can be numerous. Starting with the planning phase. Having a single company who understands how all the pieces fit together will allow them to coordinate your overall strategy, negate duplicate effort, avoid finger pointing, and will just make it easier for you to manage.
Specialists certainly have their place when the general consensus is to attack a particular marketing initiative to the exclusion of other options. A specialist may be able to bring a tested strategy and uncommon knowledge to the table. Just make sure they have a track record of playing nice with others.
Pro Tip: Stay away from any self-proclaimed "experts" with "Guru" in their title.
Full service can mean a multitude of things. It could mean that they offer a comprehensive suite of services on an itemized basis. Or it could mean that they offer their entire line of services on a retainer basis. Either can work with a well-defined strategy designed to pull together the right combination of services. Just keep in mind that if you go with the itemized version, more than likely you will be itemized to death with "extras" that aren't explicitly outlined in your agreement.
Years ago people spent a lot of time on a few media outlets (TV, Radio, Yellow-pages, Newspapers & Magazines). Now consumers spend short amounts of time on a lot of media (hundreds of different websites and scores of different social platforms). The consumer experience is now so integrated and co-dependent on cross-platform exposure that we typically recommend (and offer) full-service programs that cover the vast majority of places consumers spend their time.
At the end of the day it comes down to confidence and competence. Are you confident that your specialist or full-service agency is competent enough to become that trusted advisor and deliver the goods?
Big decision right? Not only is your budget on the line, but so is time. It does take time to get results, but you would hate to find out that after months of optimistic excitement, you are no farther along than when you started. Just more frustration with less cash.
Pro Tip: Do your homework! Ask the right questions…and know what a good answer is BEFORE hiring an agency or specialists.
I'm recommending the free eBook below. It's written by digital marketers, about digital marketers, so there is uncommon insight to help you align yourself with the right digital marketing partner.
More Tips?
For the full eBook of questions to ask BEFORE hiring a Digital Marketing or Web Development firm, you can download that here for free.