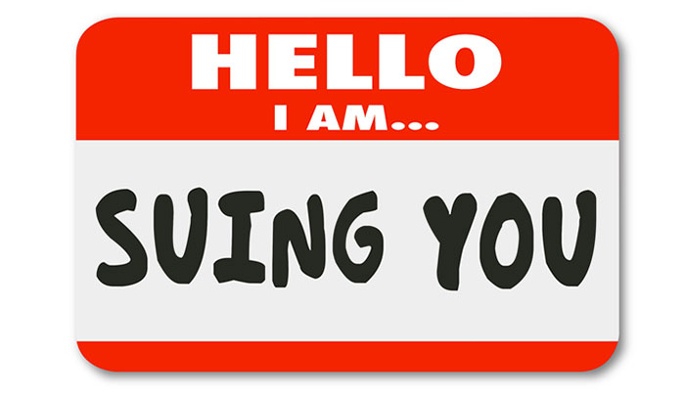 Don't You Hate Getting Sued for Using the Wrong Image?

So what are the odds that the owner of an image will stumble across that image that you "borrowed" for your website or blog and make a big honkin' deal about it? Waaaaay better than you think.
First, they don't have to blindly stumble across it. They can easily use a bevy of Reverse Image Lookup tools. Here are just a few:
TinEye is a reverse image search engine built by Idée currently in beta. Give it an image and it will tell you where the image appears on the web
Google Images uses algorithms based on various criterion like shape, size, color and resolution to find similar pictures. It works by uploading an image from your computer or pasting the link of the image in the search bar.
Image Raider is similar to Google Images but you can reverse image search on multiple images at once. It has a few other nice features like adding the URL of a page and it will search for all the images on that particular page.
The $12,000 Image
Just a few months ago a client of ours that we inherited from another company received a nasty-o-gram from Masterfile Corporation's Copyright Infringement Claim department. It even had its own logo that said "Photo Attorney" I would show it to you but the trolls might find it in this article. Amongst all the legalese was a screenshot with an arrow pointing to the offending image.
This website was built in 2003 and featured a horrible little motif in the top banner. The image in question was small and faded into another image and was barely discernible. Yet 11 years after the fact they were caught. It's possible that the image was bought and paid for by the original developer, but they were nowhere to be found to verify that.
So how much was this thumbnail of an image worth? $12,140! No that's not a typo. Apparently there is some sort of mystical formula concocted by Steven Hawkins and Albert Einstein that accounts for how long the image was in play, multiplied by the amount of hair I've pulled out of my head trying to help this client.
By the way, removing the image was mandatory, but didn't satisfy the $12k extortion bill. Masterfile has to protect their intellectual property, but the ticket price was a little ridiculous. I also wonder how much of that settlement the actual photographer will ever see.
Online Doesn't Mean Just Websites
I personally received a settlement request for $8,405 (Still trying to figure out that formula) for some images that were embedded onto a PDF on a website that was no longer even live! Getty Images sent us screenshots that we couldn't even identify what site it was on. After a bit of detective work we found the PDFs were licensed to us by a third party that took responsibility. Understand that these images hadn't been on line for years but apparently Getty's software transcends time and space.
It's Not Just about Stock Photos
We once had the privilege of building an award winning website for a major brand in the Hair Care products industry (trust me, you've heard of them). This site was top-shelf all the way…no stock photos. All the images consisted of models from custom photo shoots. Pretty safe bet huh? Not exactly…
A couple of years later the client calls us in a panic to have us take down specific pages featuring a certain model. Apparently their license for that image had expired and the meter was running. Not long after that the client asked us to send them log files of when that page was first published. You can only imagine the mathematical computations that were going on behind the scenes.
Got the "Picture"? (Pun intended)
We (Kreative Webworks) have accounts with paid stock photo services like ShutterStock and iStock so all the images that we use for ourselves and our clients are legal and accounted for. However we are a professional digital marketing agency and use so many images on a daily basis that it just makes sense to have that freedom.
For the casual blogger who may not want to pony up real money for stock photos, there are a lot of "use at your own risk" sources that you can find just by Googling. Just a strong suggestion; Before using any of these "fair Use" sites, you might want to take a look at this article by Richard Oldale on Website Magazine to get a better perspective on Image Copyright Infringement.
So What's Your Horror Story?
If you've had any bad experiences, excessive fines or just great resources… leave a comment. I'd love to know if anyone can beat my $12,140 story.