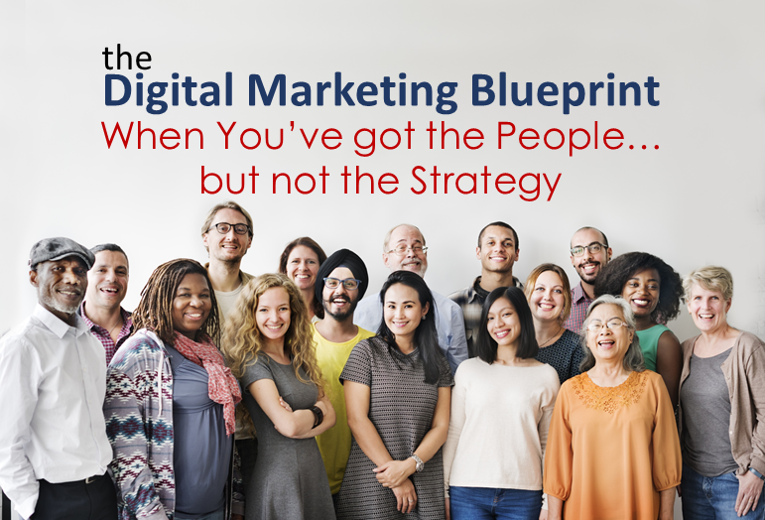 When You Want to Take Charge of Your Own Marketing.
Every morning I walk by this construction site and I see hard working, competent people diligently hammering, hauling building materials, and otherwise taking care of business. They sure look like they know what they're doing. Do you think any of them designed the house?
These folks are good at what they do because there's a master plan, and they're given direction. Yet if they just showed up on the construction site ready to go to work without a blueprint, I suspect the house would look more like an M.C Escher drawing than a stately residence.
No matter how good the skills of those workers are, that house isn't going to look any better than the way the architect planed it.
Let's assume that your objective is to maintain some degree of control over your own marketing, and to save a few bucks in the process. By keeping your marketing in-house, you might be able to do both. Not for free, but probably for less than outsourcing it completely.
---
Author's Note: We offer a Digital Marketing Blueprint service where we design the strategy for your staff to follow under our guidance. See the end of the article to learn more.
---
Luck isn't a Strategy
As I walk past that construction site every morning and see that house take shape, it's evident that it's the result of good planning and good craftsmanship. I could see how everything was designed to work together, and that it didn't just accidentally fall into place. The crew did things both independently and in teams, but as it progressed, it somehow all came together.
They did the planning up-front. The contractor had a professional architect survey the property and plan out each little detail so that the guy with the hammer could do his job without guessing what should be nailed together.
I doubt there were very many false starts where something was partially constructed, and then torn down when it became apparent it wasn't working. I also suspect that if a worker got sick, or quit, someone else could pick up where he or she left off simply by following the blueprint.
Strategy Only Programs
You know what's expensive? Time. Having good people spend time on arbitrary tasks without focus or purpose. You don't know what you don't know, and without an integrated marketing strategy, the only thing you can be assured of is trial and error, wasted time, and wasted resources.
Chances are that your staff is no more qualified to design a Digital Marketing strategy than the guy with the wheelbarrow is qualified to design the house.
I've noticed a trend where more schools and businesses have been asking for strategic planning as a separate stand-alone service. Their intention is to determine how much they can do in-house, and where they may need to rely on professionals.
I advocate a 3-stage process:
#1: Situational Analysis: Before you can design an integrated marketing strategy, you need to come up with a baseline. You need to know where you are in relation to your competition. Businesses and schools need to know who is siphoning off their customers and students, and how they stack up next to other players in their market.
You need to take stock in your existing online "assets" such as social media profiles, and usable, but un-tapped content you may already have. You will need to understand the behavior of your target market, who they are, what they search for, and what makes them tic.
#2: Detailed Website Analysis: All marketing roads lead to, or from your website. It's the hub of all your marketing activities…online and off. You need to conduct a thorough technical analysis, and take an objective look into the visual appeal of the site, the messaging, and the UX (User Experience) of the site design. This should be done objectively, ideally NOT by the person or team that developed the site. They tend to bias in favor of their own work, and unintentionally "correct for the error".
#3: Integrated Digital Marketing Strategy: Now that you know where you are in relation to your competitors, and what you have to work with, you can start the strategic planning phase. Don't think of this as a laundry list of miscellaneous activities that you heard you should be doing. Digital marketing is now so integrated and co-dependent on so many different activities, that this MUST be an integrated strategy that accounts for aspects of site, search and social.
This is the same 3-step process we use during the planning phase of our full Digital Marketing programs. Based on demand, we are now offering it as a stand-alone service for schools and businesses that want to leverage their internal resources to take more ownership of their marketing.
Our Digital Marketing Blueprint service comes with a money-back guarantee, and special packages for schools, educators, and select businesses. If you need some help getting started, we'll even back you up with training and support.